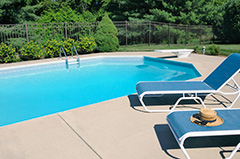 Prepare your pool for the summer right with pool opening services from Sum-R-Fun Pool Products, Inc. in Newark, DE. Our trained team will come in and make sure your pool is ready for the summer, including professional openings, vacuum services, chemical sales and deliveries, and much more. Don't procrastinate and put it off. Call our team and have your pool opened today!!
Join Our Frequent Buyers Club
We offer deals and discounts to all our regular customers. Contact us today at one of our store locations to learn more!
Schedule Service
Don't trust your pool to anyone else. Contact us today at 302-998-9288 to make your appointment to get started.